Tiger – Revolutionary VOC Detector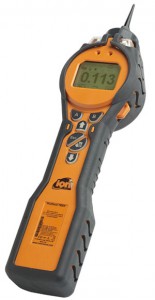 The Tiger VOC detector is a revolutionary hand held PID instrument for rapid, accurate detection of volatile organic compounds (VOCs). Its photoionisation detection (PID) capabilities utilise advanced patented Fence Electrode technology, a 3 electrode format with increased resistance to humidity and contamination.
A robust hand held VOC detector, Tiger provides a dynamic detection range of 1 parts per billion (ppb) to 20,000 parts per million (ppm), offering the widest measurement range of any other VOC detector on the market.
Ready to use straight out of the box, the Tiger VOC detector requires no complex set up procedures via a PC to perform basic functions and provides the best available VOC detection and software features available.
The Tiger VOC detector has the fastest response time on the market of just two seconds, and is just as quick to clear down. The instrument can be connected directly to a PC via the USB offering extremely fast data download capabilities.
Tiger has been designed for the safe replacement of batteries in hazardous environments. Long life rechargeable Li-ion batteries give up to 24 hours of use. Fast battery charging allows the instrument to be fully charged in 6.5 hours, while 8 hours of use can be achieved from 1.5 hours charge.
The unique six pin miniPID detector cell with anti-contamination design dramatically extends run time in the field. Low cost filters and lamps can be easily changed in seconds, minimising instrument downtime. Inexpensive disposable parts mean the Tiger VOC detector has the lowest running costs on the market.
Tiger is a fully upgradeable VOC detector with multiple functions to choose from. A base unit can be upgraded with data logging, health and safety and ppb options, remotely, without needing to be returned to the factory.
Tiger offers simple, one handed operation for easy VOC detection. Its rugged design and protective, removable rubber boot withstand the harshest environments. The large, clear back-lit display allows for easy viewing in any light condition. An integrated torch is designed for directing the instrument's probe into dimly lit areas.
Key Features:
Patented Fence Electrode Technology
Dynamic range ppb to 20,000 ppm for specific volatiles
Fast 2 second response
Easy change miniPID Detector, Electrode Stack and Lamps
Exceptionally easy to use and intuitive
No complex set up procedures required via a PC
Batteries certified to be changed within hazardous areas
Fully upgradeable with selectable functions
Choice of data logging options
Battery life up to 24 hours
Rugged design with protective, removable rubber boot
Loud audible sounders 95 dBA
Bright LED and vibration alarms
Lowest running costs on the market
5 year instrument warranty*
Specification
Minimum Resolution*
1 ppb or 0.001 mg/m3
Maximum Reading**
20,000 ppm or 20,000 mg/m3
Accuracy*
± 5% display reading ± one digit
Linearity*
± 5% to 100 ppm
Intrinsically Safe Approvals
ATEX II 1G Ex ia IIC T4 Ga (- 15 0C ≤Ta ≤+45 0C), IECEx and CUL
Battery Life
Li-ion: life up to 24 hours, charge time 6.5 hours
Alkaline: 3 x AA, up to 8.5 hours life
Lamps
10.6 eV Krypton PID lamp (standard) and 11.7eV lamps available
Data Logging*
> 120,000 data log points including date and time stamp (33 hours at 1 log per second)
Communication
USB 1.1
Calibration
Via calibration kit accessory
Alarm
Flashing LED and 95 dBA at 300mm (12") audible sounder
Selectable vibrating alarm
Pre-programmed TWA and STEL*
Pre-programmed with 450 gases*
Flow Rate
220 ml/min with flow fail alarm
Temperature
Operating: -20 to 60 0C, -4 to 140 0F (non Intrinsically Safe)
Humidity: 0-99% RH (non condensing)
Protection
Designed to IP65 (heavy rain)
C E 1180
EMC tested to EN61326-1:2006, EN50270:2006 & CFR 47:2008 Class A
Weight & Dimensions
Instrument without probe: Width: 340 x Height: 90 x Depth: 60 mm (13.4 x 3.6 x 2.4")
Standard case: 420 x 320 x 97 mm (16.5 x 12.5 x 3.8")
Instrument weight 0.72 kg (25 oz)
Tiger – Revolutionary VOC Detector

The Tiger VOC detector is a revolutionary hand held PID instrument for rapid, accurate detection of volatile organic compounds (VOCs). Its photoionisation detection (PID) capabilities utilise advanced patented Fence Electrode technology, a 3 electrode format with increased resistance to humidity and contamination.

A robust hand held VOC detector, Tiger provides a dynamic detection range of 1 parts per billion (ppb) to 20,000 parts per million (ppm), offering the widest measurement range of any other VOC detector on the market.

Ready to use straight out of the box, the Tiger VOC detector requires no complex set up procedures via a PC to perform basic functions and provides the best available VOC detection and software features available.

The Tiger VOC detector has the fastest response time on the market of just two seconds, and is just as quick to clear down. The instrument can be connected directly to a PC via the USB offering extremely fast data download capabilities.

Tiger has been designed for the safe replacement of batteries in hazardous environments. Long life rechargeable Li-ion batteries give up to 24 hours of use. Fast battery charging allows the instrument to be fully charged in 6.5 hours, while 8 hours of use can be achieved from 1.5 hours charge.

The unique six pin miniPID detector cell with anti-contamination design dramatically extends run time in the field. Low cost filters and lamps can be easily changed in seconds, minimising instrument downtime. Inexpensive disposable parts mean the Tiger VOC detector has the lowest running costs on the market.

Tiger is a fully upgradeable VOC detector with multiple functions to choose from. A base unit can be upgraded with data logging, health and safety and ppb options, remotely, without needing to be returned to the factory.

Tiger offers simple, one handed operation for easy VOC detection. Its rugged design and protective, removable rubber boot withstand the harshest environments. The large, clear back-lit display allows for easy viewing in any light condition. An integrated torch is designed for directing the instrument's probe into dimly lit areas.

Key Features:

Patented Fence Electrode Technology
Dynamic range ppb to 20,000 ppm for specific volatiles
Fast 2 second response
Easy change miniPID Detector, Electrode Stack and Lamps
Exceptionally easy to use and intuitive
No complex set up procedures required via a PC
Batteries certified to be changed within hazardous areas
Fully upgradeable with selectable functions
Choice of data logging options
Battery life up to 24 hours
Rugged design with protective, removable rubber boot
Loud audible sounders 95 dBA
Bright LED and vibration alarms
Lowest running costs on the market
5 year instrument warranty*

Specification

Minimum Resolution*
1 ppb or 0.001 mg/m3

Maximum Reading**
20,000 ppm or 20,000 mg/m3

Accuracy*
± 5% display reading ± one digit

Linearity*
± 5% to 100 ppm

Intrinsically Safe Approvals
ATEX II 1G Ex ia IIC T4 Ga (- 15 0C ≤Ta ≤+45 0C), IECEx and CUL

Battery Life
Li-ion: life up to 24 hours, charge time 6.5 hours
Alkaline: 3 x AA, up to 8.5 hours life

Lamps
10.6 eV Krypton PID lamp (standard) and 11.7eV lamps available

Data Logging*
> 120,000 data log points including date and time stamp (33 hours at 1 log per second)

Communication
USB 1.1

Calibration
Via calibration kit accessory

Alarm
Flashing LED and 95 dBA at 300mm (12") audible sounder
Selectable vibrating alarm
Pre-programmed TWA and STEL*
Pre-programmed with 450 gases*

Flow Rate
220 ml/min with flow fail alarm

Temperature
Operating: -20 to 60 0C, -4 to 140 0F (non Intrinsically Safe)
Humidity: 0-99% RH (non condensing)

Protection
Designed to IP65 (heavy rain)
C E 1180
EMC tested to EN61326-1:2006, EN50270:2006 & CFR 47:2008 Class A

Weight & Dimensions
Instrument without probe: Width: 340 x Height: 90 x Depth: 60 mm (13.4 x 3.6 x 2.4")
Standard case: 420 x 320 x 97 mm (16.5 x 12.5 x 3.8")
Instrument weight 0.72 kg (25 oz)