Hydrosteel® 7000 – for Fixed, Continuous Corrosion Monitoring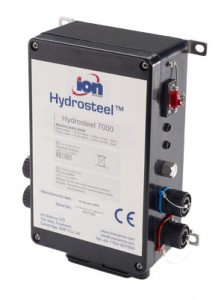 Hydrosteel 7000 is a fixed, totally non-intrusive corrosion monitoring device for the continuous measurement of hydrogen flux. The proven technology is ideal for use at highly critical sites within petrochemical and gas production, and petrochemical refining operations.
Hydrogen flux measurement relates directly to active sour and HF corrosion at <100 °C, and any acid corrosion (e.g. sulfide/napthenic acid) at higher temperatures.
The Hydrosteel 7000 corrosion monitor is designed for fixed monitoring on steel surfaces subject to corrosion scenarios including; sour gas wells, lines, storage facilities and treatment plants, amine and alkylation units, distillation columns, outlets and heat exchangers (NAC), and cracking unit overheads.
Features
Fixed instrument for continuous hydrogen flux measurement
Exceptional performance without human interference
Can be applied to steel surface up to 500 °C
Intrinsically safe (approvals pending)
Waterproof to IP66 (pending) to protect from heavy and driven rainfall
Withstands harsh environments operating in ambient temperatures between -20 and 55 °C (-4 to 131 °F), in dust storms, and in environments containing volatile organics, hydrogen and humidity
Logs flux and steel temperature data every ten minutes
Specification
MEASUREMENT PRINCIPLE
Continuous hydrogen collection and analysis
STANDARD COMPONENTS
Hydrosteel 7000 analyser: includes all sensing, pneumatic, electrical and diagnostic circuits. Solid impact resistant GRP IP66 rated enclosure with support holes for racking, gland connectors for power input, thermocouple input, 2 x 4-20 mA output. Flux and ambient gas and thermocouple inputs.
Non-intrusive probes: Hydrosteel AT-F for use on steel from -40 oC to 500 oC, includes magnetic and banding attachment means for attachment to steel >4" diameter.
Conduit: Incorporates ambient and flux sample and K-type thermocouple, up to 20 ft or 6 m.
Software: Enabling downloading of internally stored data via RS-232 in a safe area or with a permit in hazardous areas.
CERTIFICATIONS
Ingress protection rating IP66
II 2G Ex ia IIC T4 Baseefa 04ATEX0205
-40 oC < = T ambient < = +60 oC
US Equivalent
NEC 505 Class 1, Zone 1, Gas Group B, T4
NEC 500 Class 1, Division 1, Gas Group B, T4
ACCURACY
Logged and output data: ± 10% logged reading ± resolution
RESPONSE
< 3 minutes
RESOLUTION
1 pl/cm2/s (AT-S probe)
(note 1 pl = 10-12 Litres at s.t.p)
DYNAMIC RANGE
AT-F probe: 0 to 2000 pl/cm2/s
DATA LOGGING
Via analog outputs or internally
CALIBRATION
At factory. Checked with CalCheck Hydrogen
OPERATION
24 V (accepts 15 – 26 V) d.c.
TEMPERATURE
Analyser: -20 oC to 55 oC (-4 oF to 131 oF)
Probe: steel surface up to 500 oC
DIMENSIONS
Analyser (excluding ports): 4" x 7" x 10", or 10 x 16 x 26 cm
AT-F probe: 6" or 15 cm diameter
WEIGHT
Analyser: less than 5.75 lb or 2.6 kg
Conduit and collector: less than 5.75 lb or 2.6 kg
Hydrosteel® 7000 – for Fixed, Continuous Corrosion Monitoring

Hydrosteel 7000 is a fixed, totally non-intrusive corrosion monitoring device for the continuous measurement of hydrogen flux. The proven technology is ideal for use at highly critical sites within petrochemical and gas production, and petrochemical refining operations.

Hydrogen flux measurement relates directly to active sour and HF corrosion at <100 °C, and any acid corrosion (e.g. sulfide/napthenic acid) at higher temperatures.

The Hydrosteel 7000 corrosion monitor is designed for fixed monitoring on steel surfaces subject to corrosion scenarios including; sour gas wells, lines, storage facilities and treatment plants, amine and alkylation units, distillation columns, outlets and heat exchangers (NAC), and cracking unit overheads.

Features

Fixed instrument for continuous hydrogen flux measurement
Exceptional performance without human interference
Can be applied to steel surface up to 500 °C
Intrinsically safe (approvals pending)
Waterproof to IP66 (pending) to protect from heavy and driven rainfall
Withstands harsh environments operating in ambient temperatures between -20 and 55 °C (-4 to 131 °F), in dust storms, and in environments containing volatile organics, hydrogen and humidity
Logs flux and steel temperature data every ten minutes

Specification

MEASUREMENT PRINCIPLE
Continuous hydrogen collection and analysis

STANDARD COMPONENTS
Hydrosteel 7000 analyser: includes all sensing, pneumatic, electrical and diagnostic circuits. Solid impact resistant GRP IP66 rated enclosure with support holes for racking, gland connectors for power input, thermocouple input, 2 x 4-20 mA output. Flux and ambient gas and thermocouple inputs.
Non-intrusive probes: Hydrosteel AT-F for use on steel from -40 oC to 500 oC, includes magnetic and banding attachment means for attachment to steel >4" diameter.
Conduit: Incorporates ambient and flux sample and K-type thermocouple, up to 20 ft or 6 m.
Software: Enabling downloading of internally stored data via RS-232 in a safe area or with a permit in hazardous areas.

CERTIFICATIONS
Ingress protection rating IP66
II 2G Ex ia IIC T4 Baseefa 04ATEX0205
-40 oC < = T ambient < = +60 oC
US Equivalent
NEC 505 Class 1, Zone 1, Gas Group B, T4
NEC 500 Class 1, Division 1, Gas Group B, T4

ACCURACY
Logged and output data: ± 10% logged reading ± resolution

RESPONSE
< 3 minutes

RESOLUTION
1 pl/cm2/s (AT-S probe)
(note 1 pl = 10-12 Litres at s.t.p)

DYNAMIC RANGE
AT-F probe: 0 to 2000 pl/cm2/s

DATA LOGGING
Via analog outputs or internally

CALIBRATION
At factory. Checked with CalCheck Hydrogen

OPERATION
24 V (accepts 15 – 26 V) d.c.

TEMPERATURE
Analyser: -20 oC to 55 oC (-4 oF to 131 oF)
Probe: steel surface up to 500 oC

DIMENSIONS
Analyser (excluding ports): 4" x 7" x 10", or 10 x 16 x 26 cm
AT-F probe: 6" or 15 cm diameter

WEIGHT
Analyser: less than 5.75 lb or 2.6 kg
Conduit and collector: less than 5.75 lb or 2.6 kg